Restoration & Conservation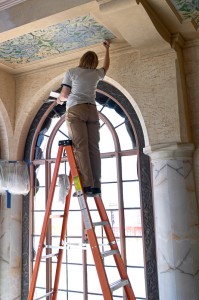 Kitwe also specialise in the historic building restoration, conservation and refurbishment of listed and historic buildings and properties.
Our experience of working with Conservation Officers, and within English Heritage and CADW guidelines is second to none.  We employ our own Contracts and Site Managers to ensure a consistency of workmanship and project delivery as well as making sure all our subcontractors have the relevant heritage experience under their belts.  Combined with a passion for what we do and a 'can do' attitude, we are  well-placed to successfully deliver award winning projects.
All the restoration contracts we have worked on have won Civic Society Awards.
The Meadow Barns – Llay Wrexham
This is a Grade 2 listed barn which was converted into nine family homes.  The scheme won the Wrexham Area Civic Society Awards in 2011 for a significant contribution to the quality of the environment.  This scheme was also awarded Premier Guarantee's  'Small Development of the Year' for 2011.
The Don – Bailey Head, Oswestry
This also is a Grade 2 listed building in the centre of Oswestry consisting of five floors, which Kitwe converted into retail, office and residential.  This scheme was awarded Oswestry and District Civic Society's 'Full Award' for 2010 for an important environmental project.
Holbache House, Oswestry
This was the conversion of the former Oswestry cottage hospital built in 1870 into seven luxury apartments.  This project was highly commended by Oswestry and District Civic Society in their 2007 awards for an important contribution to the environment.
Queens Park House, Oswestry
This was the conversion of Oswestry's Girls School in Queens Road, Oswestry, (built in 1870) into ten luxury apartments and was welcomed by the residents of Queens Road, (one of Oswestry's most prestigious residential areas) as a tasteful conversion which was totally in keeping with the surrounding area.
Kitwe takes pride in undertaking sympathetic refurbishment and restoration of period dwellings.
By utilising a highly skilled and dedicated trades team, in addition to adopting traditional materials and techniques we can provide a total service for the sensitive maintenance and upgrade of buildings.